Engine Sensors
Engine Sensors Including lectromagnetic, induction hall effect type, Photoelectric effect type .
1. Engine Actuators MODEL
Engine Oil Pressure Sensors
Engine Water Temperature Sensors
Engine Oil Temperature Sensors
Engine Camshaft Position Sensor ECU distribution camshaft position signal collected and input, so that the ECU to identify 1 check point on the compression stroke cylinder, which provides for cylinder signal (signal is sentenced to cylinder ECU control the fuel injection timing and sequence of the only basis) and sequential fuel injection control ignition moment control and domination, is also used to identify the ignition moment for the first time at the moment
Engine Crankshaft Position SensorsIs the most important sensor computer controlled ignition system, its function is to detect signal, the check point on the engine speed signal, and the crank Angle signal. And its input computer to control cylinder ignition order to make the best ignition time command.
Cummins Engine Sensors parts number :3015237,3015238, 3034572, 3069728, 3078155, 3408624, 3865346, 3900268, 3967250, 3967251, 3967252, 4061022, 4061023, 4061391, 4061392, 4076393, 4914076, 4914101 Sensors for Chongqing Cummins NT855,M11 , KTA19,KTA50,KTA38 QST60 diesel engines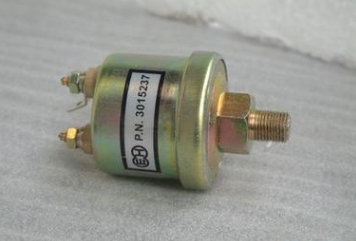 Engine Sensors Cummins Engine parts oil pressure sensor 3015237
Other Generator Parts we can provide:
Generator parts: DSE controller, ComAp controller, Woodward controller, Cummins Speed controller, GAC Speed controller, Generator AVR, Engine Actuators, Engine Sensors, Engine Meters.